---
To print: Select File and then Print from your browser's menu.
This story was printed from LSU Reveille.
Site URL: http://www.lsureveille.com.
---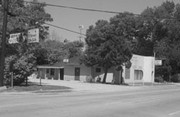 Reveille file photo BACK IN TIME: Fleur De Lis, a Baton Rouge staple for more than 50 years, offers pizza and a nostalgic atmosphere. It is located on Government Street.
Landmark eateries offer old-time appeal
Restaurants have sentimental value
By Jessie McCumsey, Contributing Writer
April 22, 2004
Among the flashy and decorative new restaurants being opened in Baton Rouge every other week, the older ones have remained and are still going strong.
These places have became landmarks, and are a definitive part of the Baton Rouge culture.
Restaurants like Frostop and Fleur De Lis, both located on Government Street, have been on the scene for a while, but that does not mean they have lost the flavor they started with.
Fleur De Lis began as a service station.
In 1946, it was bought and changed remodled into a cocktail lounge, said Pam Rushing, the current owner of Fleur De Lis restaurant.
It started as more of a bar than restaurant.
"In 1946, my grandparents bought it," Rushing said. "My grandmother started making the pizza as a snack."
As more people came to the bar and tried the "snack", the pizza's popularity grew. Eventually, Fleur De Lis became well known and loved for its homemade pizza with the "special Italian seasonings."
"When my parents started running it in the '80s, they made sure that is was a family atmosphere," Rushing said. "I think the main reason we have stayed successful is because we have kept the pizza the same."
When they enter, customers are immediately greeted by nostalgia.
"It's like stepping back in time," Rushing said.
Fleur De Lis has kept the interior practically the same since it first opened.
There is a juke box in the corner, a bar in the center, and tables taking up almost every inch of the floor.
Driving by on a Saturday night, people can see the parking lot filled with cars, and once inside, people usually have a wait before they can be seated.
Although it may be a small restaurant, it stays packed.
Fleur De Lis has remained successful because of its history. It speaks to different age ranges of people, and provides them with the same irresistible flavor.
"People have so many memories," Rushing said. "People have proposed here, gone on their first dates, and more."
Another restaurant which has remained a popular favorite since 1926 is Frostop.
With its revolving root beer mug suspended above, it is a hard sight to miss when traveling downtown.
Their homemade root beer has kept customers coming back, said Tim Habbouch, who bought the restaurant over 2 months ago.
"No one can forget Frostop because everyone came here when they were little," Habbouch said. "The building, music, food, and root-beer have remained in the same style."
Recently, the revolving mug was fixed and replaced, and there are plans in the works to replace the worn floors.
Habbouch said they have not changed anything on the menu, and still provide people with the same style burgers, and especially the homemade root-beer they are so well-known for.
"We have had great customer ratings," Habbouch said.
Frostop's plans on possibly expanding to other areas in Louisiana, such as New Orleans, Lafayette and Alexandria, keeping the old style, and never changing the root-beer.
Habbouch said they also plan on having a re-opening of Frostop once the floors are finished, providing free drinks and music to the public.
These restaurants have proved to be long-lasting- they have weathered the years and the emergence of new, colorful restaurants, and will continue still to be big part of the Baton Rouge community.
Note: Most newer browsers don't need a print-friendly version of this article. Just click File, then Print from your browser's menu at the previous page.
---
© 2005 LSU Reveille