Louisiana Basics

Swathed in the romance of pirates, voodoo and Mardi Gras, Louisiana is undeniably special. Its history is barely on nodding terms with the view that America was the creation of the Pilgrim Fathers; its way of life is proudly set apart. This is the land of the rural French-speaking Cajuns (descended from eighteenth-century French-Canadian refugees) who live in the prairies and swamps in the southwest of the state and the haughty Creole aristocrats of jazzy, sassy New Orleans. (The term Creole covers those born in the state to French and Spanish colonists - famed in the nineteenth century for their masked balls, family feuds and duels - as well as native-born French-speaking slaves.) Louisiana's spicy homecooked food, regular festivals and lilting French-based dialect - and above all its music (jazz, r'n'b, cajun and its bluesy black counterpart, zydeco) - draw from all these cultures. North Louisiana - Protestant Bible Belt country, with cotton fields and fine old plantation homes - is more "Southern" than the marshy bayous, shaded by ancient cypress trees and laced by wispy trails of Spanish moss, of Catholic South Louisiana.

The French first settled Louisiana in 1682, braving swamps and plagues to harvest the abundant cypress, but the state was sparsely inhabited before its first permanent settlement, the trading post of Natchitoches, was established in 1714. In 1764, Louis XV secretly handed all French territory west of the Mississippi to his Spanish cousin, Charles III,as a safeguard against the British, and Louisiana remained Spanish until it was ceded to Napoleon in 1801, under the proviso that it should never change hands again. Just two years later, Napoleon needed cash and struck a bargain with Jefferson, known as the Louisiana Purchase. This sneaky agreement handed over to the US all French lands between Canada and Mexico, from the Mississippi to the Rockies, for a total cost of $15 million. The subsequent "Americanization" of Louisiana was much resisted by the Creoles, and the state eventually joined the Confederacy in 1861. There were, however, important differences between Louisiana and other slave-driven Southern states. Here slavery was more in the West Indian mould than the Anglo-American. The Black Code of Louisiana, established by the French, upheld by the Spanish and then effectively broken by the Americans, gave slaves rights unparalleled elsewhere, including permission to marry, meet socially and take Sundays off. The black population of New Orleans in particular was renowned as exceptionally literate and cosmopolitan.

Louisiana was economically rather than physically scarred by the Civil War, with few important battles fought on its soil, and in time it recovered, benefiting from rich agricultural land, the mighty Mississippi River and offshore oil. Today tourism is crucial, but despite rabid commercialism, Louisiana remains a unique and intriguing place - upbeat, laid-back, and never less than compelling. Try New Orleans or Baton Rouge for a unique experience at Mardi Gras.

Getting around Louisiana
Louisiana is crossed east-west by two major interstates, I-20 in the north and I-10 in the south. New Orleans is very much the hub, served by I-55 and I-59 from Mississippi. I-49 sweeps across southeast to northwest, connecting Cajun country with the north.

The main international airport is in New Orleans; regional airlines serve the rest of the state and surrounding areas. Greyhound buses connect all the major towns with the rest of the country, and are supplemented by smaller local lines. Three Amtrak trains daily link New Orleans with the east and west coasts, and with the north central states. The Sunset Limited departs New Orleans three times weekly for New Iberia and Lafayette, and continues onwards through Texas and Arizona to Los Angeles; the City of New Orleans arrives in New Orleans from Chicago every afternoon; and the Crescent makes thrice-weekly runs from New York to New Orleans. There are three connecting buses to Baton Rouge; four arrive daily from New Orleans, and one comes in three times a week from Lafayette. In addition to the Mississippi's bridges and causeways, ferries cross the river at both New Orleans and St Francisville, further north in Cajun country. For more information about Louisiana check these local Newspapers
---

InterActive Hotel Solutions

Louisiana Hotels
All Major Cities
---
---
A Party 300 Years in the Making!



Baton Rouge celebrated its 300th Birthday in 1999.
International exhibits and festivals honoring our French Culture and Heritage will continue to occur through out the year.


To receive Event Materials Throughout the year call
1.800.LA.Rouge extention: #502
1.800.527.6843 extention: # 502
Baton Rouge Area Convention and Visitors Bureau
359 Third Street
Baton Rouge, LA 70801
225.383.1825
225.346.1253 FAX
BRACVB
Please tell them where you saw the info:


Baton Rouge City Guide and Internet Rest Area, since 1995.



[]

Cajun Music on the Bayou

The Greater Baton Rouge Internet Rest Area and City Guide
Home - Cook - See- Eat - Visit- Stay - Do- RedStick - Shop- Sights- Relax- Weather- Enjoy

---
---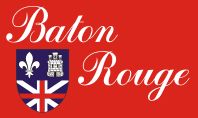 american entertainment virtuals, inc.
WE ARE BR !!!
Baton Rouge on the Net since 1995!
Copyright © aVe
March 15 1995-2018
All Rights Reserved